The ROADS on Asteroids challenge gives teams of students grades 3–12 a chance to tackle a mission to the asteroids. Teams will plan and simulate a mission to the "snowman" feature on the asteroid Vesta (see below). The mission will include an impactor from height onto the surface, drone landing and takeoff, and robotic navigation across potentially hazardous surfaces to look for the building blocks for life.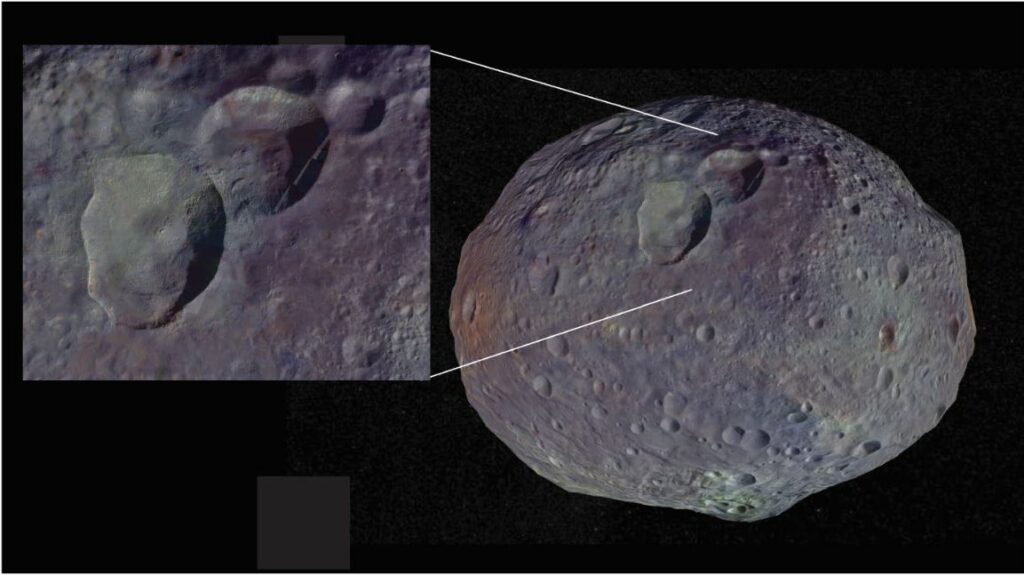 You can use ROADS on Asteroids with your students in three ways
2020–2021 national student challenge — Register your team with NESSP and complete the Mission Objectives at the same time as hundreds of other teams across the U.S. Top teams will win prizes! Challenge runs October 2020 – April 2021. See below for more information on the ROADS on Asteroids challenge.
Course curriculum — Educators can incorporate ROADS on Asteroids as a hands-on module in their curriculum. Use the full set of the Companion Course units and lessons, or select just a few relevant to your curriculum. Registering a team for the 2020–2021 student challenge is encouraged but not required. See this page for more information on our course curriculum program.
Summer program — ROADS activities also make great programs for summer camps! In the early months of 2021, expect an announcement regarding summer camps — including updates on whether in-person summer camps will be allowed, virtual summer camps as an alternative, and professional development trainings available for summer camp educators. See this page for general information on our summer camps program.
ROADS on Asteroids — The 2020–2021 NASA National Student Challenge
Read more
Why did NESSP choose asteroids (and comets) for this year's challenge? What are the Mission Objectives and activities? What prizes can top teams earn? To learn more details about the ROADS on Asteroids challenge, read the pages listed here.
Run the challenge
Do you have a team ready to run the challenge? The pages here guide you through the process of registering your team and making your submission. Keep an eye on the time!
Team registration for the ROADS on Asteroids challenge opens on Tuesday, October 13, 2020.
The ROADS on Asteroids "final event" will be held virtually in April 2021. Teams will have several pieces of documentation that must be submitted via NESSP's website in order to be eligible for scoring and prizes. Checkpoint challenge submissions are optional, but teams who make submissions are eligible for prizes.
Registration opens on Tuesday, October 13, 2020. Final submissions will be due in April 2021.
Relevant NASA Missions
ROADS on Asteroids focuses on developing and executing a mission to the asteroids — specifically to Vesta in the asteroid belt. Each Mission Objective is designed to involve students in NASA science mission design and execution. ROADS on Asteroids is also aligned with Next Generation Science Standards, creating a fun, hands-on activity that helps students meet many NGSS requirements and thereby helps them to be more successful in their studies.
ROADS on Asteroids takes elements from four current or future NASA missions. Images for these spacecraft images are shown in the figure below.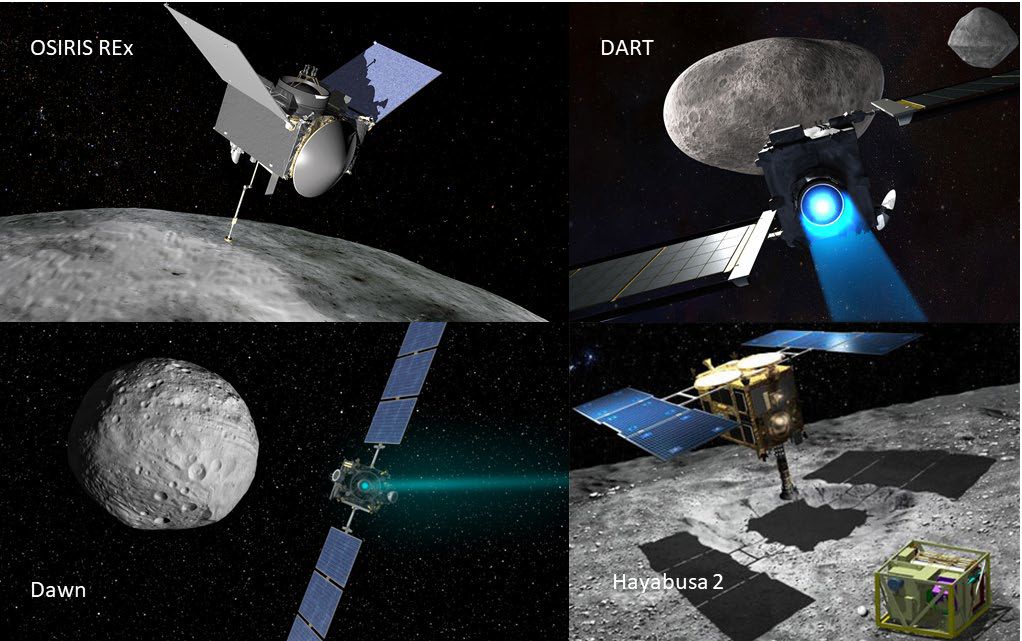 Dawn (mission to Vesta and Ceres)
Hayabusa 2 (mission to Ryugu) > Explore the surface of Ryugu
OSIRIS REx (mission to Bennu) > Explore the surface of Bennu
DART (mission to Didymos)
Images from Dawn will be used for mission planning and to explore how scientists interpret data from spacecraft to create maps and to understand processes that have occurred (topics: communications, Earth sciences). Concepts from Hayabusa 2 and OSIRIS REx will be used to investigate the importance of taking local samples, how to the interpret the data, and what the data means for both the search for the building blocks of life and robotic exploration (topics: astrobiology/biology, robotics, programing). Finally, from the Hayabusa 2 and DART missions, the challenge will incorporate the principles involved in impacting a rocky object (topic: planetary geology). Complete details on each Mission Objective are found in the manual.