The Red-Tailed Hawk Flying Club is looking for students entering grades 6-12 for a one day exposure to the world of aviation. Students will meet aviators and engineers, learn some aviation history, engage in aerospace related STEM activity and fly with the Red-Tailed Hawks.
Aviation Day Camp will be held July 28, 8:30 AM – 3:30 PM, at The Museum of Flight.
Sign up by June 22nd.
To sign up, please contact Roland Bradley, Camp Director, and provide the following:
Student's full name, grade, and age, parent's name, email, and phone number.
Roland Bradley
rolandbradley1947@gmail.com
206-949-8118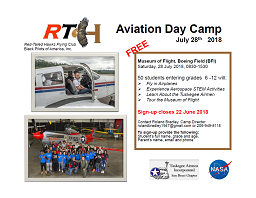 2018 Red-Tailed Hawks Aviation Day Camp Flyer